JOSH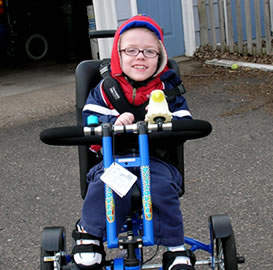 5-year-old Joshua is one of three children in a Minnesota family. He uses a power wheelchair to move himself around at school and is working hard to learn to walk, presently walking while fully supported in a gait trainer. He needed a piece of equipment for play and for gym class at school, so his family requested Variety's help purchasing a specially adaptive bicycle. The bike would not only meet his recreational needs, but also his need for exercise, increasing his leg strength and allowing practice of reciprocal leg movements to improve gait. Variety approved the request and Joshua now owns his very own bicycle specially customized for his needs, allowing him to ride without help and maximize his potential to walk independently.
NAFISSA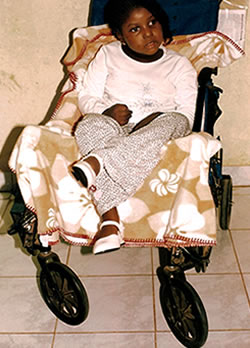 3-year-old Nafissa's primary means of mobility was a wheelchair that had to be pushed by a caregiver. At 43 inches long and 54 pounds, she was becoming too heavy for her mother to constantly transfer her in and out of the wheelchair. The equipment itself was also cumbersome because of its weight and the process of disassembling, transporting and then reassembling the wheelchair. In order to make everyday errands and outings throughout their hometown in North Carolina more comfortable for Nafissa and easier for her mother, Variety provided the funds to purchase the family a special stroller. Her mother says, "It is so much lighter and easier to transport than her wheelchair, and it has made it much easier to take Nafissa out on short trips and errands." Thanks to her new stroller, Nafissa's horizons have expanded as she goes out to more places and is exposed to environments outside her home and school more often.
ABBY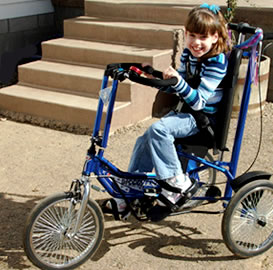 9-year-old Abby is Variety's first mobility recipient in Arizona. She is part of a family of six, with one more on the way. She attends physical therapy, and while she was there in the fall, she had the opportunity to ride a specially adaptive bike. Her therapist saw that the bike improved her leg strength and endurance and recommended the family purchase a bike for Abby. Supporting a family of six can be a monumental task, and paying for a child's therapy often means families incur many out of pocket expenses that insurance just will not cover. That's where Variety stepped in by funding a custom-outfitted bicycle for Abby. The bicycle is an excellent addition to Abby's home therapy regimen. It will improve her strength, range of motion and endurance. It will also enhance her sense of independence and improve her social interaction as she joins her sisters on their bike rides around the neighborhood.
VANESSA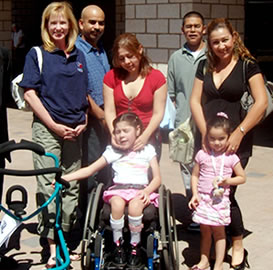 8-year-old Arizona resident Vanessa requires maximum assistance from two people when walking, but the new gait trainer purchased for her by Variety allows her to walk with much better results. The gait trainer provides necessary support and can serve as a means of mobility at home and at school. It also provides positioning in standing for her; standing is very important to prevent bone loss, respiratory infections, skin breakdown and other complications. "This is a wonderful gift. Not only will it help Vanessa's physical health, it will give her the opportunity to be more active and involved. That's extremely important to an eight-year-old," says Karen Curtis, Vanessa's pediatric physical therapist.
ALYSSA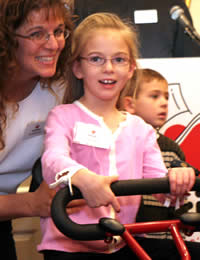 9-year-old Alyssa is the first Variety: Delaware Division child to be assisted through Direct Care for Kids, a last resort medical program for families in need that supplies necessary medical equipment to children whose insurance companies cannot provide coverage. Alyssa has cerebral palsy and her family had been seeking approval from insurance for an adapted bicycle for two years to no avail. This bike will serve as a means of physical therapy for her by allowing her to strengthen muscles. In addition, it allows her to partake in a recreational activity with her friends and siblings. This is Alyssa's first bicycle!
MATTHEW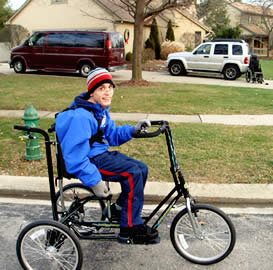 Matthew is a very outgoing and energetic 12-year-old from Ohio who loves adapted recreation. He learned how to independently pedal and steer a specially-adapted bike while at therapy to treat his spastic quadriplegia cerebral palsy. Despite the bike's benefits to improve his joint range of motion, strength, balance and coordination, the family was unable to get the bike for their son because of the expenses incurred due to having a child with disabilities. Variety stepped in to provide the bicycle for Matthew just in time for the holidays. His mother writes, "How can we begin to thank you enough for your kind gift to Matthew? He looks forward to FINALLY being able to participate in the annual 'Pedal with Pete' fundraiser for kids with cerebral palsy. He's never participated because he's never had a bike…until now! Thanks for making Matthew's dreams come true!"
MIKAYLA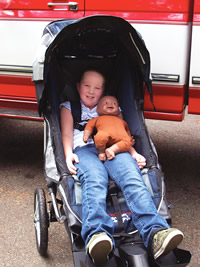 Mikayla has the same sense of adventure as other 9-year-olds, enjoying walks, trips to the park, hikes with her family, the beach, and many other outdoor activities in her hometown of Seattle. But her rare chromosome deletion means she has very low muscle tone and is easily fatigued, making it difficult for her to participate in family activities. Her mother began researching special needs strollers but found the cost overwhelming for her family of seven, especially with her husband out of work due to a severe injury. After being denied aid from her and her husband's insurance companies and two state agencies, Jodi found out about Variety through her local Starlight Starbright office. She applied for a stroller and was approved two weeks later. 'The look on Mikayla's face when we pulled the stroller out of the box was beyond description,' her mother says. "There are not enough words to describe her excitement. She was grinning from ear to ear."
AMARE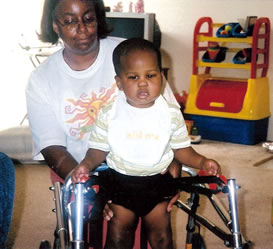 2-year-old Amare lives with his mother and 7-year-old brother in North Carolina. Due to his cerebral palsy and other medical issues, Amare was unable to walk independently before Variety provided a posture-control walker, pelvic stabilizer and extensor assist pad for him. The equipment helps him walk independently by improving alignment and symmetry and providing additional hip extensor assistance. Amare's mother expressed her gratitude: "Thank you so much for the walker, stabilizer and pad. Amare is making a lot of improvements."
LATOYA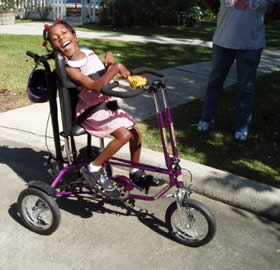 The devastation caused by Hurricane Katrina in New Orleans was immense for the city's residents, and even more so for families like 11-year-old LaToya and her mother. LaToya, who was just 9 years old at the time, suffers from cerebral palsy with significant stiffness throughout her body. She and her mother were forced to relocate to nearby Baton Rouge because of the hurricane. During therapy sessions, LaToya had the opportunity to try a specially-adapted bike. She was extremely excited and became more active and verbal while practicing pedaling the bike. Upon hearing about LaToya and how riding a bike would help improve her range of movement, increase lower limb strength and encourage general exercise and social activity, Variety stepped in to fund a specially-adapted bike of her very own. After just a couple of months, LaToya's therapist already sees the benefits of LaToya regularly riding her bike.
JAREK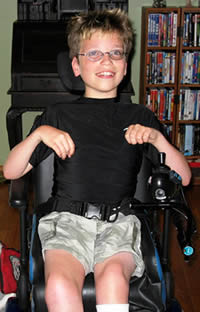 At just 12 years old, Jarek has developed an outlook on life and a level of wisdom that reach well beyond his pre-teen years. Jarek believes in opening the door when opportunity knocks and he tries to extract fun out of every experience. Most importantly, he does not allow cerebral palsy to run his life. That attitude has garnered the happy, enthusiastic Minnesota resident a very active life – he won a contest that landed his artwork on the official 2006 greeting card for the Parent Advocacy Coalition for Educational Rights Center, he participates in sports like water-skiing, wheelchair ice hockey, and basketball, and he has met celebrities like Bo Derek and Michael Bolton. However, despite all of his accomplishments, Jarek was unable to do something as simple as reaching an object in a cupboard. Variety heard about this inspirational boy and his need for a custom power-pack to elevate himself in his wheelchair, and we stepped in to provide him with the equipment. Jarek is one step closer to living as fully and independently as possible.
EMILIO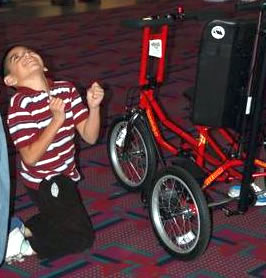 Variety of Colorado launched its mobility program by presenting two well-deserving boys with bikes to meet their special needs. 7-year-old Emilio Herrera has Methylmalonic Acidemia (a metabolic disorder) and received an adapted bike. His parents, Roberta and Albert, were overwhelmed with emotion to see Emilio on a bike of his own. Following the presentation at UA Meadows 12 Theatres in Lone Tree, CO, each of the recipients and their families were treated to a movie courtesy of Regal Entertainment. Variety of Colorado thanks the Anschutz Foundation for its generous donation that funded the equipment for Emilio and Candido (below).
CANDIDO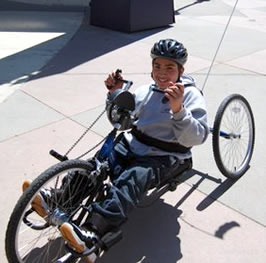 Variety of Colorado launched its mobility program by presenting two well-deserving boys with bikes to meet their special needs. 11-year-old Candido Estrada, who has Spina Bifida, received a handcycle. Once Candido got the hang of his new bike, no one could slow him down. Following the presentation at UA Meadows 12 Theatres in Lone Tree, CO, each of the recipients and their families were treated to a movie courtesy of Regal Entertainment. Variety of Colorado thanks the Anschutz Foundation for its generous donation that funded the equipment for Emilio (above) and Candido.
LOGAN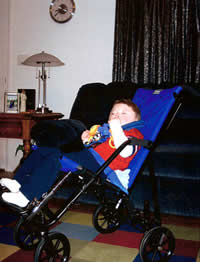 Logan, who was born three months premature, has cerebral palsy. The 4-year-old cannot communicate, nor can he walk, sit up, or crawl. At an age when most children chase one another around the preschool yard, he can only roll over. His mother, Kristy, struggled to take him places because his wheelchair was too heavy for her to lift into their vehicle.
Within one week of requesting a lightweight wheelchair from Variety, Kristy received a call that her request had been approved. Logan became Variety of Eastern Tennessee's first mobility recipient. Now, Logan can go anywhere at any time. Weighing just 10 pounds, his new chair is easy to lift into their van and simple to fold for storage. "I never hesitate to go anywhere now," Kristy says.
MOLLY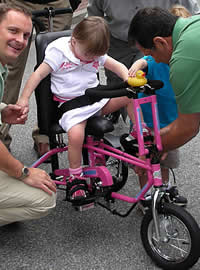 Variety of Georgia officially launched its Mobility Program with the presentation of a specially outfitted bike to a little girl named Molly. Here are some comments from Molly's mother, Andrea:
"It is hard to put into words what Molly's new bike means to her. First of all, it is great for her physically. Molly has cerebral palsy and it is helping her with her strength as well as stretching her tight heel chords. Secondly, the bike is helping Molly socially. She is more aware of her environment when on the bike (rather than a stroller or wheelchair). Other people also come up to her to talk about her cool new bike. Most importantly, the bike is helping Molly be a part of her family. Molly is a triplet and now she can ride her bike just like her brother and sister. In fact, they are jealous and love to have a turn on her bike! Thank you so much for making a difference in all our lives!"
ABIGAIL AND EMILY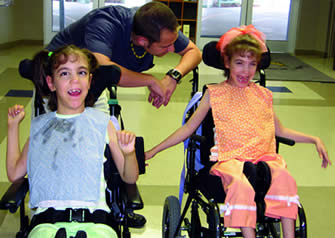 Winter Springs Elementary School in Florida is the only public elementary school endorsed by Seminole County for the instruction of physically and mentally impaired children. The school's administration was unable to get grants or county funds to install a handicap door at the entrance of their building, thus limiting the mobility of their physically impaired students, like Abigail and Emily. These otherwise capable children could not run errands for their teachers or move freely through the school like other children because they could not maneuver their wheelchairs as needed or pull open a forty-pound door on their own.
Abigail and Emily either had to have their parents open the door, wait for a teacher to come and let them in, or hope that another child would be around to assist them. Now, thanks to the generosity of mobility program sponsor Fred Astaire Dance Studios, they can say goodbye to their parents at the curb, volunteer to deliver papers to the front office for their teachers and go about their day the same as the other children who attend Winter Springs Elementary School.